Family and Community Engagement
 As a community of equity-focused educators, MSAN districts commit to engage and assist families of underserved populations in the following ways: navigate school/district systems and processes, advocate in a language that is meaningful to them for their student(s) to appropriate school/district staff, and provide a mechanism for parents to voice concerns, ask questions, and share suggestions.
Look over the RESOURCES we have found helpful in fulfilling our commitment to families, FRAMEWORKS of equity-focused engagement practices, and ACTIONS you can take to engage and assist families of underserved students in your school district.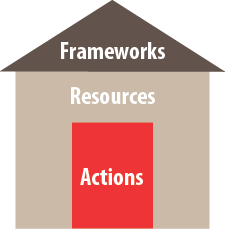 RESOURCES

Other RESOURCES

MSAN District Examples

---

National FRAMEWORKS of Family-Community Engagement Practices

---

DISTRICT ACTIONS you can take

Make the information your district provides to families accessible to all.
Investigate your district's website. Act as if you are a parent seeking information and opportunities to get involved. How easy (or difficult) is it to find the information you are looking for?  How welcoming or inclusive is the website?
Make sure family engagement is in your district's strategic plan and board policies.
Try reverse interpretation and supply headsets for the English speakers.