Welcome to the new school year!

In this month's MSAN Minute, we share fall updates, including details on our annual MSAN Student Conference, a sneak peek of the final report on last year's MSAN annual focus area, the MSAN professional learning calendar for 2018-2019, and a new report that details specific strategies for increasing racial equity in middle-income schools. Welcome back, and here's to a great year of learning and action for educational equity!
---

2018 MSAN STUDENT CONFERENCE
Registration Closes Wednesday, September 26, 2018
The Public Schools of Brookline district will host the MSAN Student Conference in Boston this October 24-27. This year's conference theme is "Deeper the Roots, Stronger the Tree." At this event, high school scholars from across our network will gather in Boston to hone their equity leadership skills, create action plans for change in their districts, and visit college campuses—including a whole-group to Harvard University.
Registration closes September 26. Please see the MSAN Student Conference website for the agenda, pre-conference materials, and other details. Each year, conference delegates create an Action Plan. Think about how you will support your district's MSAN Scholars in implementing their Action Plan when they return from the conference!
---
EQUITY IN ACTION
Brand New Civics Education Resources: "Voting and Voices" Partnership of Rock the Vote and Teaching Tolerance
Just in time for the November elections, check out these brand-new resources for helping young people develop their identities as voters even before they cast their first ballots. This incredible site includes everything from a PD page to a Classroom Resources area to guides and toolkits for voter registration, a quiz to see how much you and your students really know about voting, and beautiful classroom-friendly posters!
---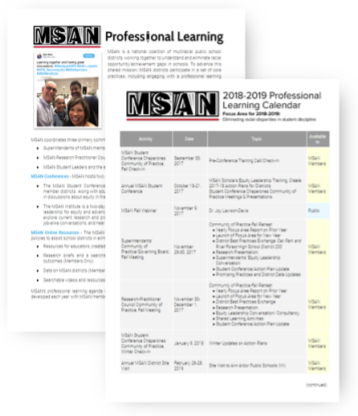 PROFESSIONAL LEARNING
MSAN Professional Learning Calendar for 2018-2019
MSAN member districts participate in a set of core practices, including engaging with the MSAN professional learning agenda. See go.wisc.edu/MSANProfessionalLearning for the MSAN Professional Learning Calendar for this school year. Highlights include a link to the call for proposals for our annual MSAN Institute conference, information on free webinars in our MSAN focus area, and more!
---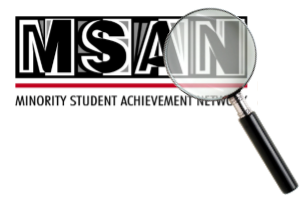 ANNUAL FOCUS AREA
Wrap Up and Launch for MSAN Focus Areas
In order to link learning across MSAN events and programs in a more systematic way, MSAN launched a new approach to our professional learning agenda last year—our annual focus area. A final report on the 2017-2018 focus area (Increasing numbers of students from underrepresented groups in advanced courses and programs) and a formal launch for the 2018-2019 focus area (Ending racial disparities in school discipline) will be shared at the November MSAN community of practice meetings—but MSAN Minute readers can preview that information now! See the links above for more information, and please share your feedback with us!
---
RESEARCH YOU CAN USE
Report on Closing Gaps in Middle-Income Schools: Specific Strategies for District Leaders
Researchers from the Chapel Hill, N.C.-based nonprofit Public Impact analyzed more than 150 quantitative studies on gaps in student achievement over the last decade. The report, funded by the nonprofit Oak Foundation, suggests that closing income and racial achievement gaps in middle-income districts requires district leaders to create a "culture of equity" across systems. The report includes specific recommendations, including:
Place highly effective teachers on teacher-teams to increase their impact
Ensure students see at least one teacher of their race and gender at elementary, middle, high
Universal screening for advanced learning and special education
Click here
for a summary of the report in
Ed Week
, and access the
full report here
.
---
LEADERSHIP SPOTLIGHT
Internationally Known Speaker and Former MSAN School District Board Chair Dr. Barbara J. Love to Deliver Keynote Address at MSAN Student Conference
Dr. Barbara J. Love is Professor Emerita of Social Justice Education at the University of Massachusetts Amherst, and she consults on equity and diversity with education and nonprofit organizations throughout the U.S., Europe, the Caribbean, and Africa. Dr. Love served as chair of the local school committee in Amherst-Pelham Regional School District when that district participated in the founding and chartering of MSAN. We are so excited for Dr. Love to deliver one of the keynote addresses at this year's MSAN Student Conference! Watch www.msan.wceruw.org for a video of her talk, which will be posted in November.